Remote working means that you carry out your tasks from somewhere other than the standard workplace. Remote workers can either be permanent employees of a business who regularly work from outside the office, or they may even be freelance workers who typically work from home (or cafes like digital nomads). This type of flexible working is on the rise, with the Gartner predicting that around half of the global workforce is already remote after 2021, so what exactly is the draw to working away from the office?
Remote working is on the rise for two reasons. Firstly, as businesses strive to keep operational costs down, having a team of remote workers negates the need for a workspace that comfortably accommodates the entire workforce. Secondly, employees themselves are seeking to create a healthier work/life balance, and take advantage of all the benefits they get from working from their home.
The Pros and Cons of Remote Working
There are a number of benefits of being a remote worker, and social media software company Buffer has reported on these benefits in their 2019 State of Remote Work survey, carried out across 2500 participants who regularly work from home, or from other locations outside of their standard office.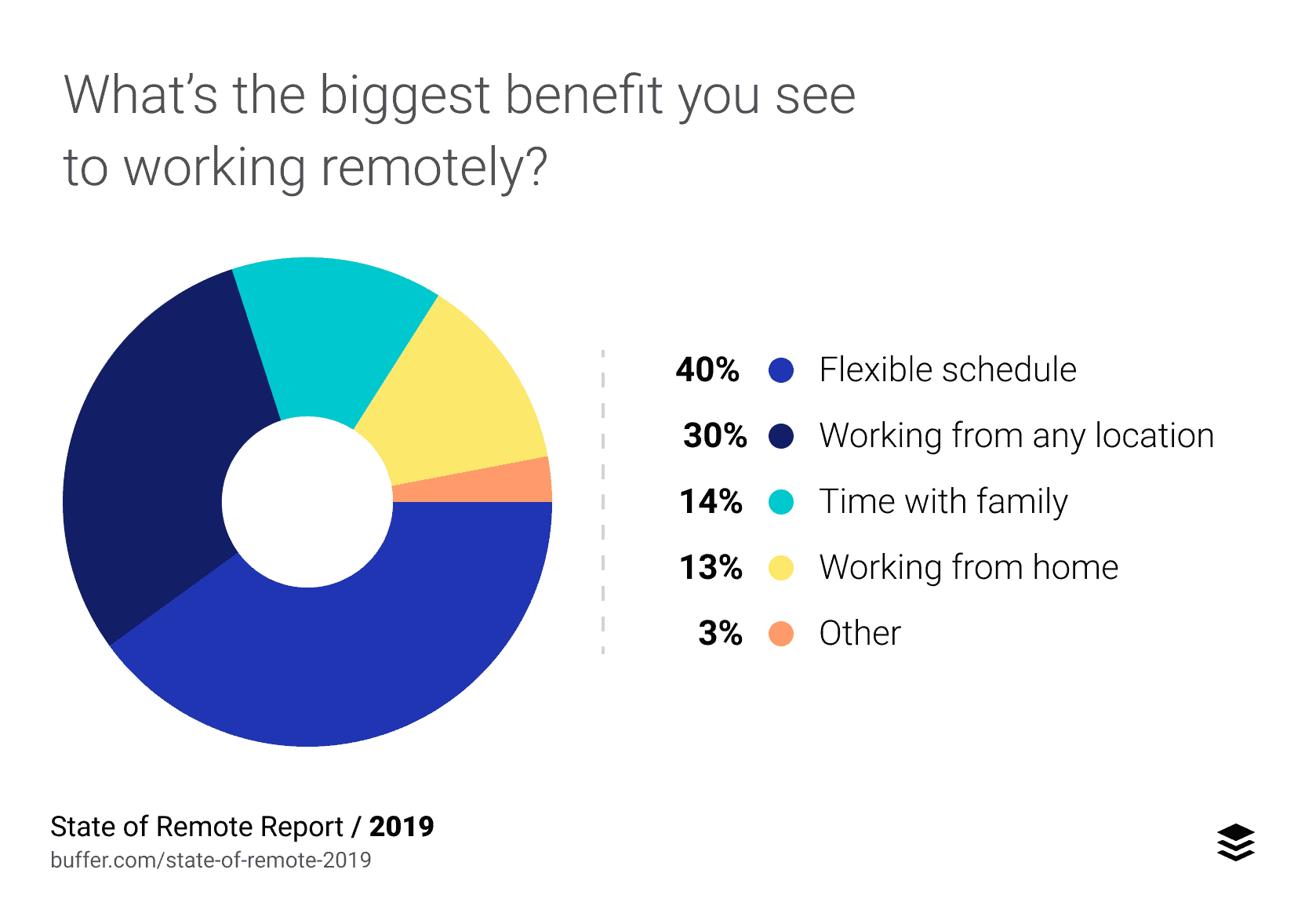 The report shows that the biggest advantage of remote working is having a flexible schedule, with workers being able to do what they wanted, when they wanted, as long as they met their deadlines. A close second was the ability to work from any connected location, while remote workers also noted that they enjoyed being able to work from home and spend more quality time with their friends and family.
However, while remote and flexible working policies are on the rise, they perhaps aren't rising at the rate that is to be expected for such a beneficial setup. The Chartered Institute of Personnel and Development actually notes in its 2019 Mega Trends report that the number of employees taking flexible working opportunities hasn't increased since 2010. Why? Perhaps it's due to the challenges of remote working.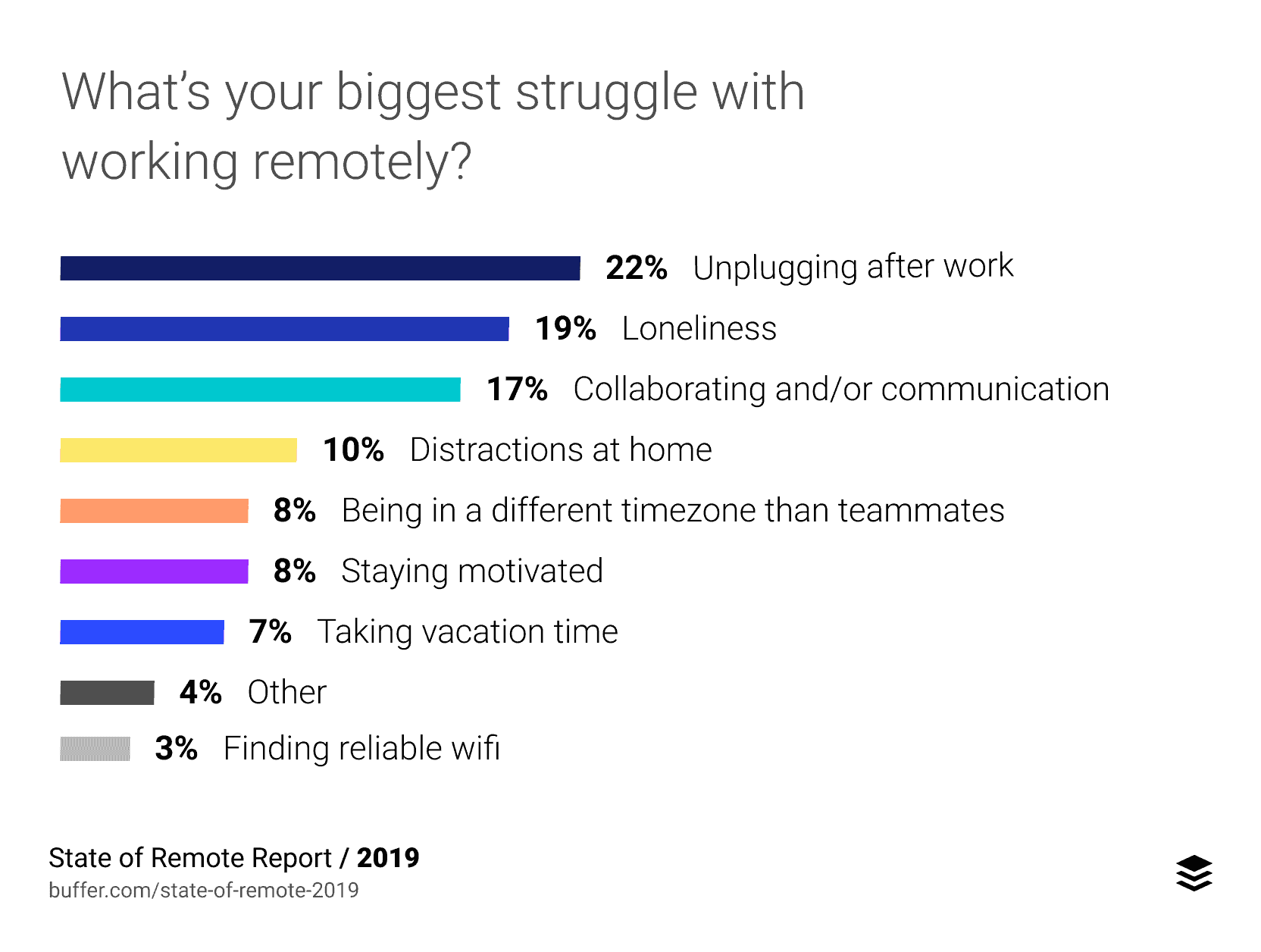 Although remote workers cite being able to work from any location as one of the biggest benefits, more than three quarters actually choose to stay at home, according to the Buffer report, which means that there's a constant struggle between balancing the work side of being home, and the life side. Of the 9 biggest challenges uncovered by the report, many can be directly attributed to working at home, including 'unplugging' at the end of the day, staying motivated, and dealing with home distractions.
This suggests there is an urgent need for improved time management guide for remote workers, helping them create a healthy balance and allowing them to enjoy all the benefits of flexible working.
Time Management Techniques for Remote Workers
Here are 5 of the easiest yet most effective time management techniques to try out at home:
Use a Timer
While multitasking may seem like a way to get everything done in both your home life and your work life, it can sometimes do more harm than good. The problem with multitasking is when we try and do multiple things at once, we'll never be putting 100% into a single task. The timer strategy is a more suitable solution.
There is a direct link between monotony and productivity, which means that if you stick to one task for too long, you're not going to be putting as much into it as you really need to, so use a timer or a time tracking tool such as Teamdeck to map out specific chunks of time to spend on each task before moving onto another with a fresh burst of energy.
If you do need to multitask to get everything done, this technique helps you jump from project to project without distractions.
Develop an Action Plan
With remote working, no two days are ever the same, so it's a good idea to begin each new day with an action plan. Developing an action plan is easier than you may think, with the typical plan including aspects such as what needs to be done, who's involved, and what's needed to succeed. Schedule in everything that needs to be done that day, leaving time for breaks and any essential home chores.
The secret to a good action plan — an action plan you can stick to — is learning to say 'no'. If your schedule is full for the day, it's tempting to try and squeeze in more tasks if they're sent your way, but it's healthier to say no, or to try and compromise and either delegate the task to someone else or see if it can be completed tomorrow. A healthy work/life balance is essential, so don't disrupt it by always saying 'yes'.
Take a Break
If we look back to the benefits of remote working, it's aspects such as having a flexible schedule and spending time with family that really stand out for remote workers. However, these benefits can't be enjoyed if remote workers never take a step back from the task at hand. When there are no social cues around you, such as colleagues nipping off for their lunch or coffee breaks, it's your responsibility to make sure you take a moment to grab some fresh air, take the dog for a walk, sort the laundry, or pick the kids up from school.
Try to schedule breaks in between tasks to neatly 'bookend' your projects, and try to stick to a similar sort of routine each and every day. You may also find it useful to spend some time learning about when you're most productive, and scheduling your breaks based on your own habits.
Create Your Own Workspace
As the Buffer report shows, one of the biggest challenges for remote workers is unplugging at the end of the day. Without a dedicated workspace, there is no boundary between home life and work life, which not only makes it difficult to unwind, but also goes the other way and makes it difficult to get into the productivity mindset when you're feeling comfortable and snug on your sofa in front of the television.
If you're planning to regularly work from home, it is absolutely essential that you create a dedicated work area (it doesn't have to be elaborate!) that distinguishes your home space from your workspace. But an area alone is not enough; you must also try to stick to the routine of working in the office space and being 'at home' in your home space. Keep in mind the old saying…. Never mix business with pleasure!
Minimize Office Distractions
Home distractions such as the doorbell ringing or dishwasher beeping are one thing… but office distractions are quite another! Communication is essential for remote workers who need to maintain a strong link to the office, or to other remote members of the team, but constant messages popping up can break up your productivity flow… each and every time they appear!
So where's the middle ground between maintaining high levels of communication and avoiding distractions? The secret is to use messaging apps that come with an integrated 'snooze' mode. These modes hide message notifications when you're busy, but also allow users to send urgent messages when needed which do show up. Sometimes, you just need to switch off for a while in order to fully concentrate on what you're doing.
Find What Works For You
There really is no right or wrong way to work remotely. Some people will naturally be more motivated than others, and what works for one may not work for another. The best way to find a time management technique to suit you is to spend a little time analyzing how you work, looking at broken workflows and distractions especially. You can do this by using time tracking apps which give you an in-depth insight into your own working habits, providing the data you need to develop your own time management strategy.
Go On, Tell Us What You Think!
Did we miss something? Come on! Tell us what you think of our guide on time management techniques in the comments section.
Anita Sambol is a passionate writer currently working with Teamdeck. She has years of experience in content creation and freelancing. In her free time, she enjoys cooking and watching football.