Planning the future based on certain stats and facts usually gives you an upper hand over your competitors as you end up capitalizing on the first mover's advantage.
Besides, future predictions make you keep up with the industry trends and helps you to focus on your long-term strategies.
With over 57 startups becoming unicorns, 2017 was a good (but not so great) year for startups and entrepreneurs. But with the rise of AI, IOT, and blockchain, there are much more expectations from 2018.
Here are 5 startup trends and predictions for 2018 you should be looking out for.
Artificial Intelligence Will Boom
2017 was a noteworthy year for artificial intelligence. The topic of AI found its way to many board meetings, marketers talks, blogs, and even pitch decks.
Even though these talks and articles created a huge hype, the marketers are yet to capitalize on it. The artificial intelligence is still in its nascent stage and will see a huge progress in 2018 as the hype has attracted more business giants and developers to improve the fluency of machine learning, AI, and advanced analytics.
There are thousands of companies formed with a sole objective to use artificial intelligence in the industries ranging from drug discovery, cybersecurity to robotics and legal tech.
Thomas Reuters predict AI to be present everywhere from your personal assistant to even courts, newsrooms, and cars in 2018. According to a study by PwC, artificial intelligence could contribute up to $15.7 trillion to the global economy in 2030 and will not be limited to Apple's Siri and Amazon's Alexa (which are in their nascent stage as well).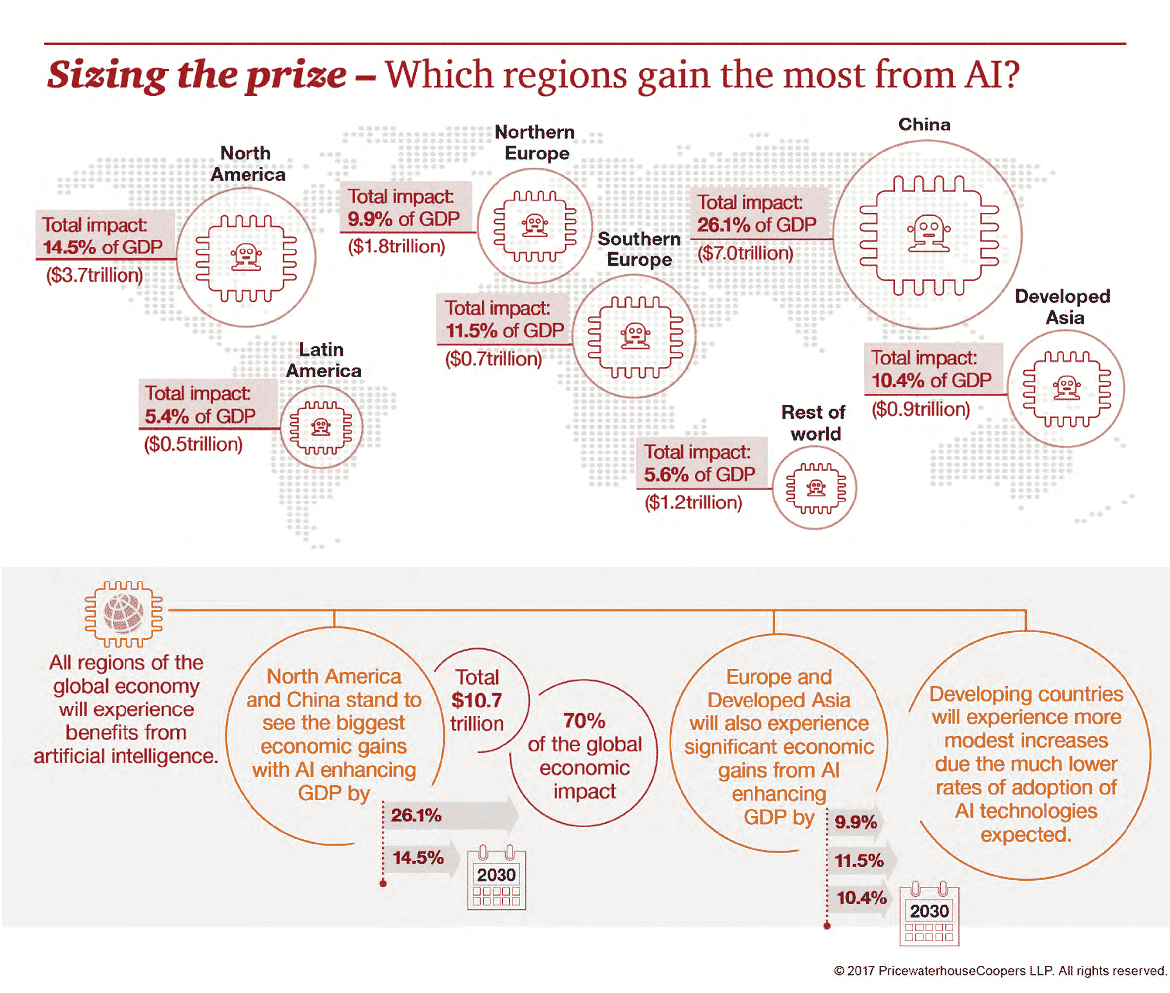 Samsung is planning a new consumer product three-fold strategy and has announced to add AI in all of its devices and appliances by 2020.
According to Mark Cuban, AI Will Produce World's First Trillionaires.
2018 can bring many newcomers in the Artificial Intelligence industry and the startup which hasn't started yet can become a new market leader before you can even think of it.
Disruptive Innovation Will Still Prevail
The term disruptive innovation was coined by Joseph L. Bower and Clayton Christensen in 1995 and referred to the innovation-driven-growth. A disruptive innovative company is one which creates a new market or transforms an existing market and displaces established market leaders, products, and alliances by introducing simplicity, convenience, accessibility and affordability where complication and high cost are the existing state of affairs.
We've seen the rise of many disruptors like Uber, Airbnb, and Oyo which grew on capitalizing the basic needs, wants, and desires of the customers which were earlier ignored and unserved by the market leaders operating in these sectors for decades.
Sunscreens are being replaced by sunscreen pills.
Shared workspaces are being given more importance.
Aggregation has resulted to be a profitable business model.
Disruptive innovation has even become an important part of a startup's definition.
But why disruptive innovation will still prevail (and boom) in 2018?
The existing disruptive businesses like Uber, Airbnb, and Oyo have led to the formation of an on-demand economy which resulted in the stubbornness of the customers who now want Uber and Airbnb for other industries as well (most of which are not capitalized upon yet).
The customer wants everything on his mobile which has opened the gates to many new markets for the technology-based disruptors to capitalize on in the coming years.
The robots now can become your coworkers and have social interactions with you.
Blockchain has attracted the spotlight even before the start of the year.
Disruptors are also doing a really great job in the field of social welfare.
Plus, disruptive innovation hasn't reached out to the whole world yet.
IOT Will Become More Important
With over 20 billion devices connected to the internet, Internet of Things is something which should not be ignored in 2018. Even though the growth of the Internet of things will be more stable as compared to other technologies, it'll certainly become more important this year. In their report, Predictions 2018: IoT Moves From Experimentation To Business Scale, Forrester research has predicted that the IoT will become the backbone of the customer value and the IoT infrastructure will shift to edge to provide cloud intelligence.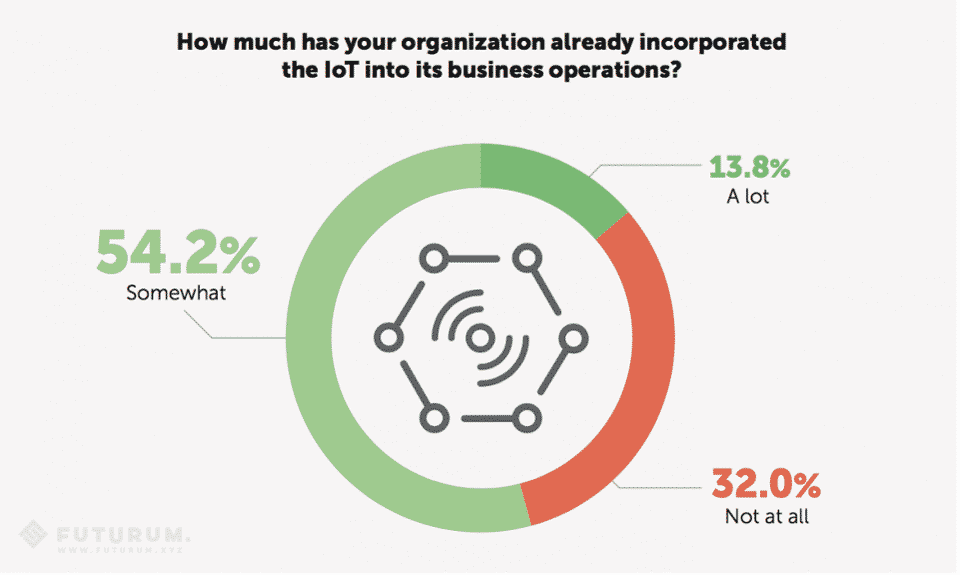 A recent study shows that about 2/3 of the companies in the USA currently utilize IoT in their business.
Around 45% of data and analytics decision-makers at the USA enterprises commercialize their data, while only 35% of those in French and 38% of those in Germany do so. This lag will be removed this year as the European Commission will issue guidelines to encourage its use.
A tremendous boost to the IoT deployments has been brought by its merger with the blockchain. Blockchain infrastructure provides reliability, security, stability, and seamless integration with the IoT. Many promising projects have emerged with the merger of two and many more are expected in 2018.
Cryptocurrency Will Find A Permanent Place In The Ecosystem
Two years back, Saxo Bank's annual report which predicted the value of bitcoin to be around $2,000 per share in 2017 was regarded as outrageous and highly optimistic. The last few months of December not only proved the prediction to be true but also exceeded the future expectations as the bitcoin reached its all-time high of $19,783.06.
Cryptocurrencies might not be the next gold, but they surely have brought a new revolution in the market. Even those who criticized the concept are now a part of it. JPMorgan Chase CEO Jamie Dimon referred to bitcoin as stupid and fraud and now his company is the member of the pro-blockchain Enterprise Ethereum Alliance. There are reports that they're also getting into bitcoin futures trading. Even Vladimir Putin, who announced cryptocurrencies to have serious risks, has launched his country's own new cryptocurrency – cryptoruble.
The cryptocurrencies have capitalized on the Metcalfe's law which states that a network's value is proportional to the square of the number of users. In simple terms, cryptoassets have recently seen rapid growth due to the network effect. Bitcoin even joined the global financial system last year.
ICOs exploded into the scene to become a preferred fundraising option where over 880 new companies crowdfunded their project ideas and raised more than $6B in 2017.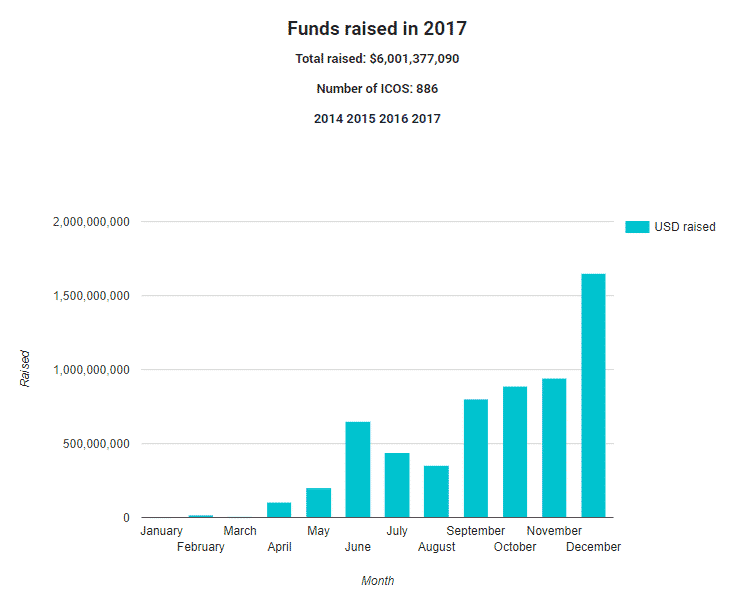 The utility of cryptocurrencies ranges from providing early funding to the project ideas, providing banks in the pockets of the users, receiving donations, to providing an avenue for those who have lost faith in the federal financial systems.
Hundreds of new cryptocurrency startups came to light in 2017 and the societal shift to online payments have highly favoured their acceptance in the market.
Many new promising blockchain startups are yet to launch in 2018 which have their visions ranging from utilizing cryptoassets to revolutionize the renting industry, improve blockchain algorithms, creating a marketplace for intellectual property, etc.
Besides, we'll witness an all-new wave of crypto accelerators and incubators appearing to service this growing ecosystem.
Micro-Moments Will Become More Important
According to research by Zenith Media, smartphone penetration among individuals will rise to 66% in 2018, which certainly will increase the demands and expectations of the users from their phones.
According to Google:
Mobile has conditioned consumers to turn to their devices in I-want-to-know, I-want-to-go, I-want-to-do, and I-want-to-buy micro-moments.
But what exactly is a micro-moment?
According to Google, a micro-moment is any moment that triggers the customer to use their mobile device on the fly. The customers have become such habituated to using their smartphones that they rely on it to learn new things, go somewhere, do something, or buy something.
Such reliance will become the next big market to be capitalized on this year.
Micro-moments have accelerated the customer expectations for "right here, right now". They want everything tailored according to their own needs and requirements (which led to the rise of apps like IFTTT) This desire has attracted many marketers use the consumer data for their own profits while serving them.
Some of the examples of micro-moment trends which were capitalized on in 2017 were:
An 80% increase in mobile searches with the term "best".
35% increase in the "product review" searches.
Smartphone users becoming  50% more likely to expect to purchase something immediately.
More searches for "Near Me".

With the rise and accuracy of voice assistants, 2018 will see more voice searches than ever. Those businesses which tend to provide frictionless mobile experience to the users will thrive more than which don't.
Go On, Tell Us What You Think!
Did we miss something?  Come on! Tell us what you think about our article on 5 Startup Trends & Predictions For 2018 in the comments section.
A startup consultant, digital marketer, traveller, and philomath. Aashish has worked with over 20 startups and successfully helped them ideate, raise money, and succeed. When not working, he can be found hiking, camping, and stargazing.